So having trawled through all of Style.com's coverage of the Costume Institute Gala, I must say I'm rather disappointed. With 'Model as Muse' as the theme of the night, I was expecting some great pairings, and even greater outfits. My usual muse, Leighton Meester shocked me a little, in a Louis Vuitton dress with matching, clashing (it is possible, trust me!) leggings. If she'd have perhaps left the leggings at home I would have loved the look a little more. Such a shame, she's a stunner.
Not to dwell on the negative, here are some of my favourites from last night;


#1. Kate Bosworth in Stella McCartney
I loved this look from the off, and loved it further when I found out that it was by Stella. Just lovely.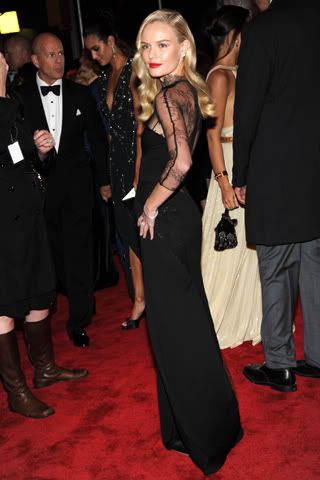 #2. Liv Tyler, Kate Hudson and Stella McCartney, all wearing (you guessed it), Stella McCartney.
All three look stunning but I particularly love Stella's jumpsuit. She looks gorgeous.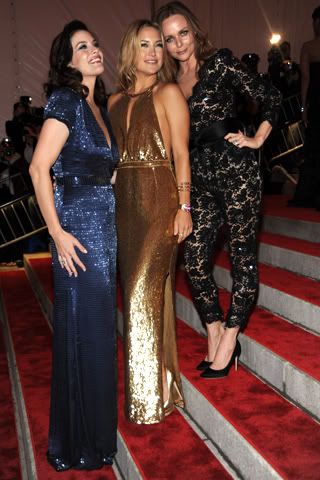 #3. Diane Kruger in Chanel.
She is so beautiful, I love the entire look... the colour, length, hair, shoes, clutch. Just love.


# 4. Gisele in Versace.
I'm not usually a Versace fan, but you can't deny that Gisele is looking hot right here! The colour is great and the dress shows off her enviable, mile-long pins. If you have it, flaunt it, after all!


#5. Michelle Alves in Marchesa.
Now this is how to do pregnant goddess! Wow!



Also looking fabulous last night were Coco Rocha (on top form! she looked every inch the super model she is), Jessica Stam, and Miranda Kerr, although I can't find photos that do them enough justice yet. I'll try and post them asap.
(photo credit : Style.com)
xoxo