I don't ususally post negative comments on my blog, however I came across this advert on a website, and it outraged me that much that I felt the need to blog about it.
I'll admit that I'm not a typical Gucci fan, although I began warming to the brand after their stint of beautiful and exotic ad campaigns for Spring Summer 09, featuring the gorgeous Natasha Poly and even more gorgeous 'Rampling' mega heel.
My respect for the brand however has now been completely thrown out of the window by this one image...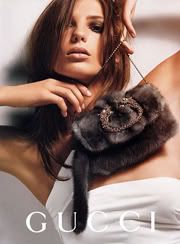 I completely disagree with the use of fur for fashion, or anything for that matter. I can't see why anyone would want to wear twenty chinchillas for the sake of looks, or warmth. However fur on a bag may be the MOST RIDICULOUS IDEA I've came across, ever.
Did Gucci somehow think that their elite consumer wanted to possibly keep their purse warm? I particularly hate that they seem to be playing on the use of fur by including a tail. It actually sickens me.
'It takes twenty years to build a brand, and five minites to distroy it'
. Warren Buffet.
Maybe Gucci should bear this in mind when creating their next accessories collection...
Rant over.
xoxo